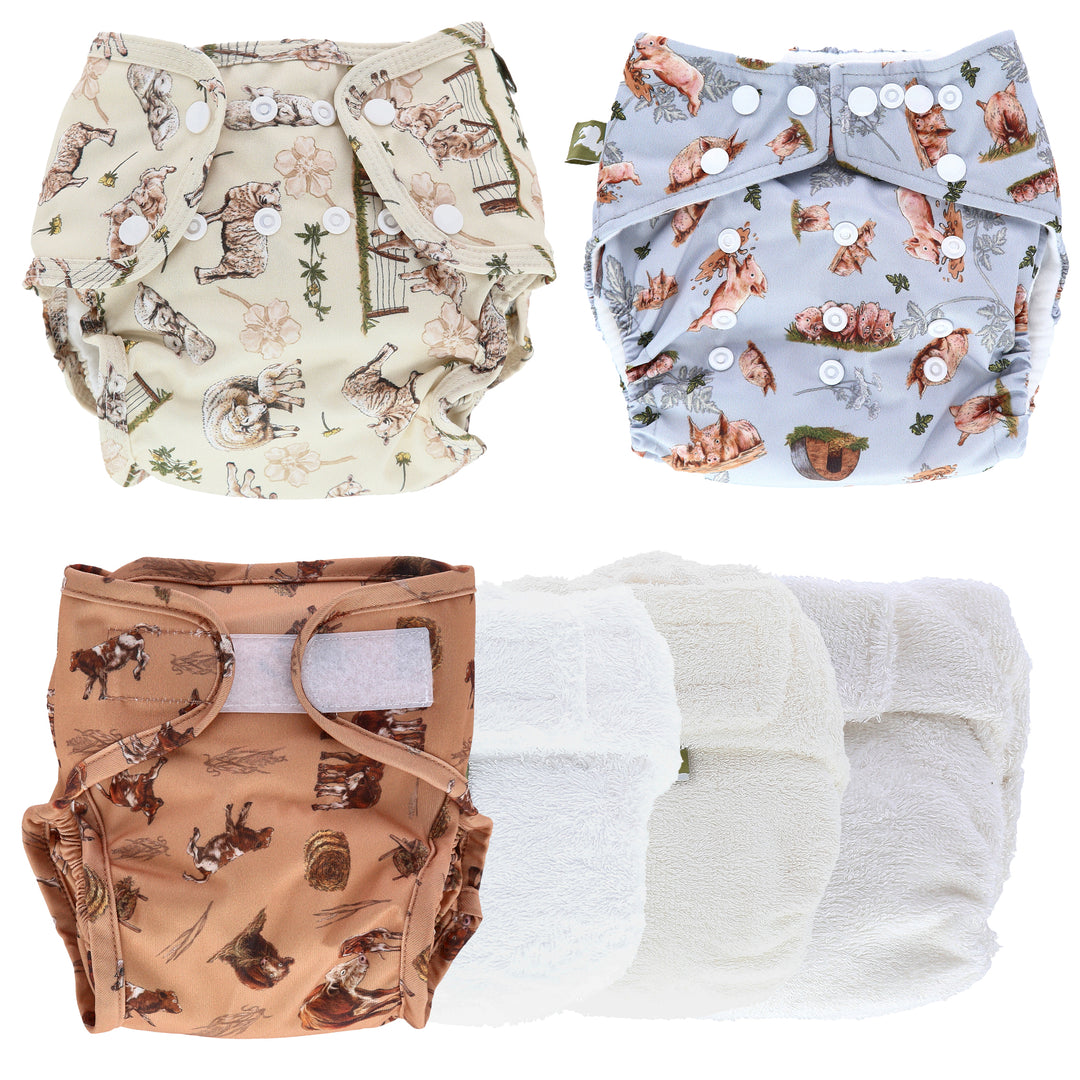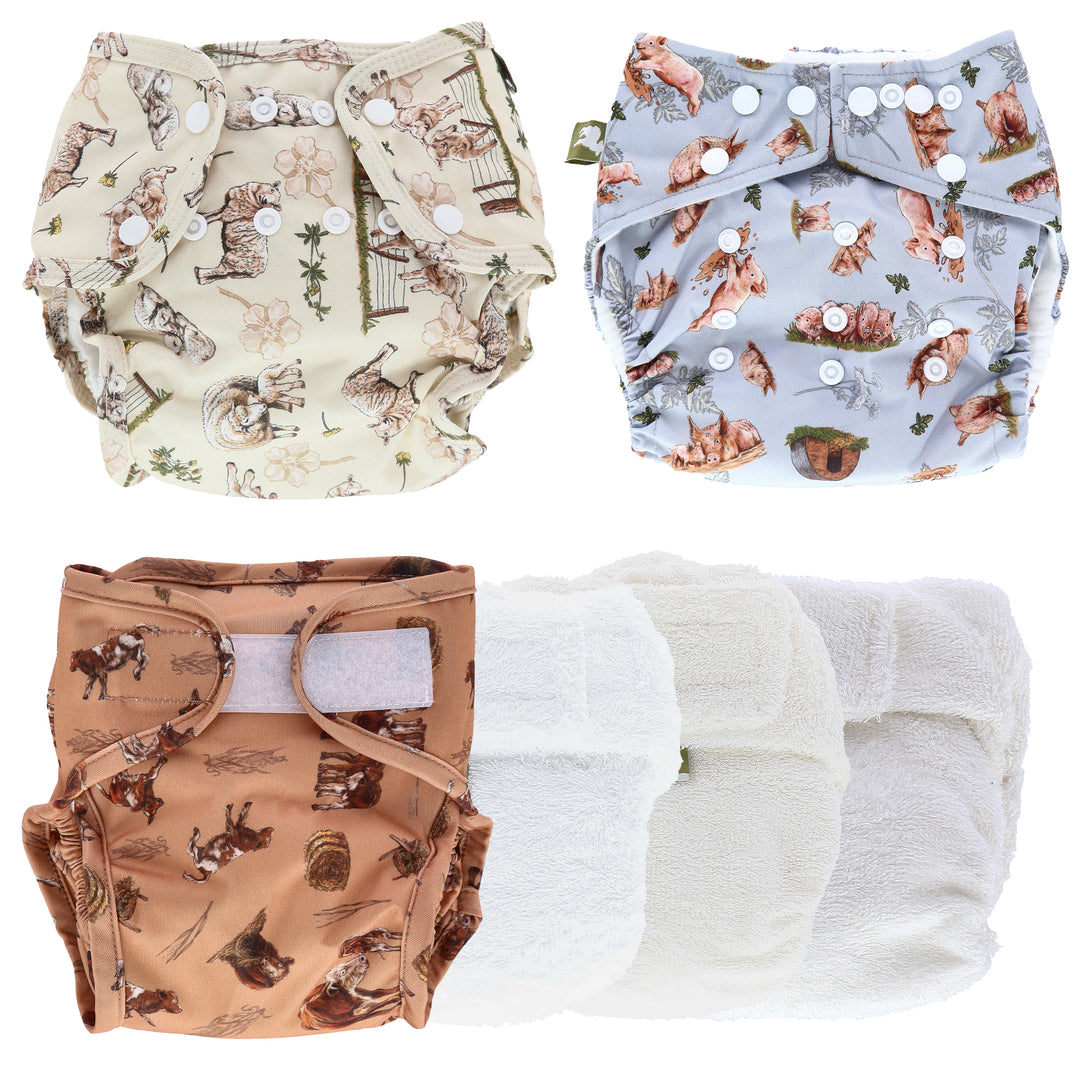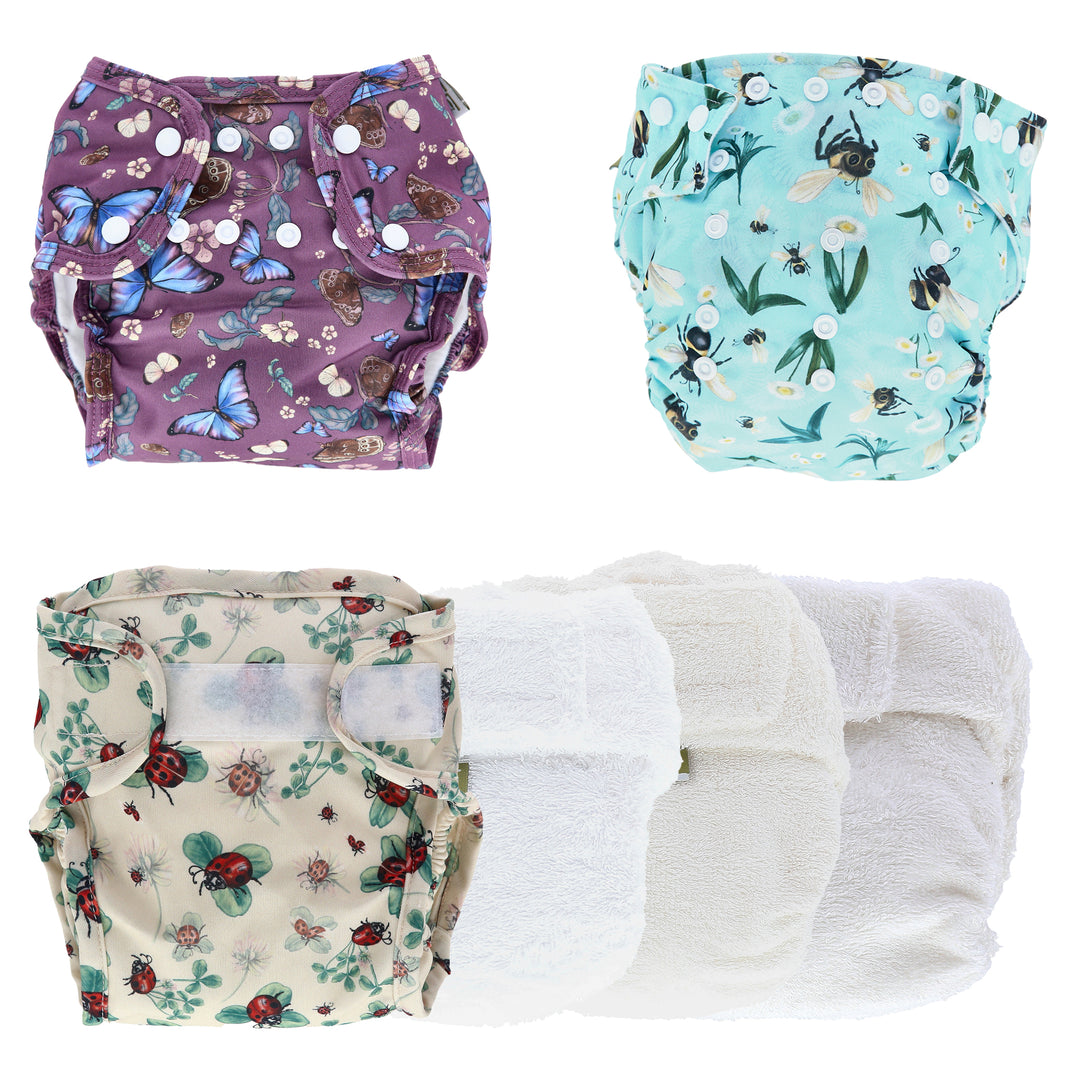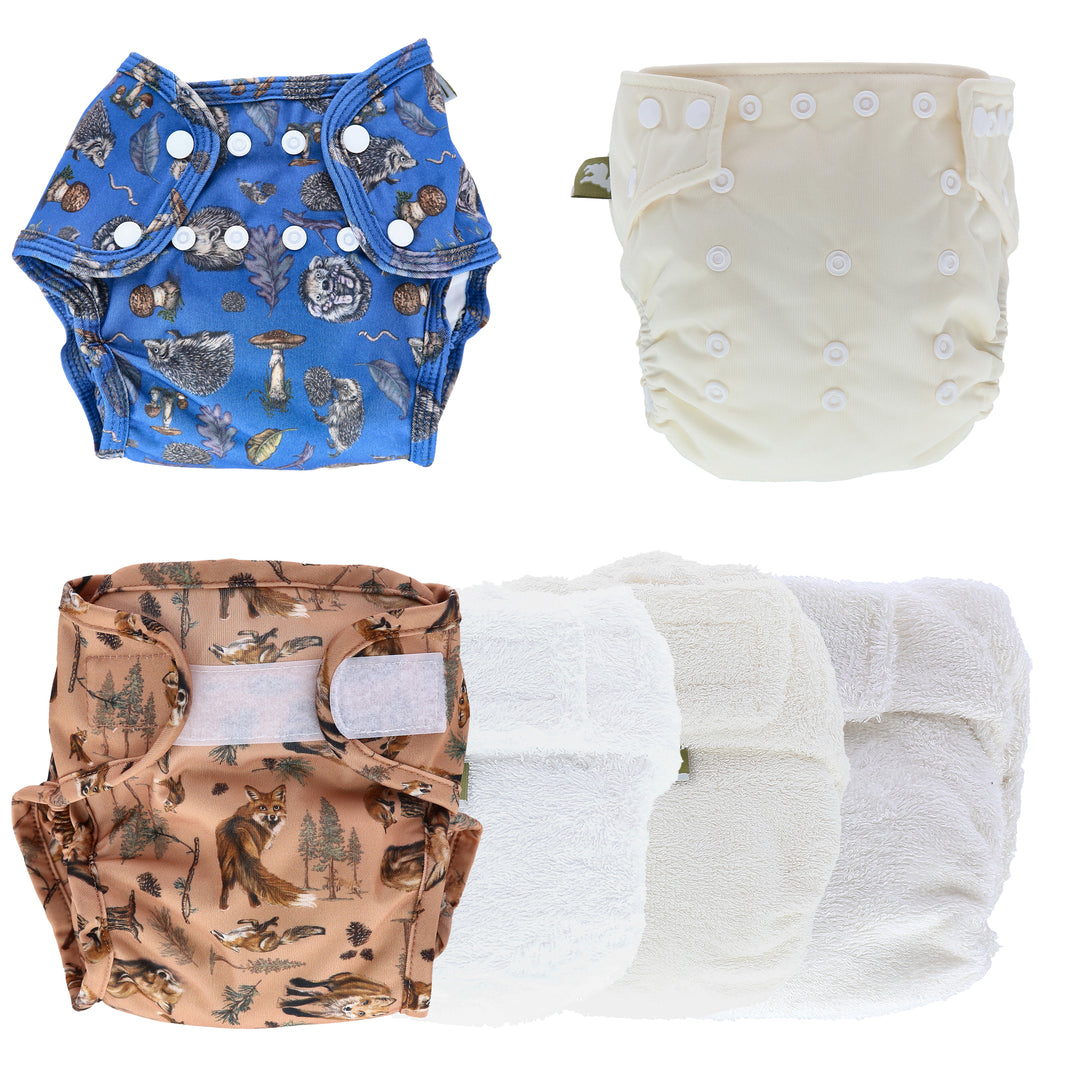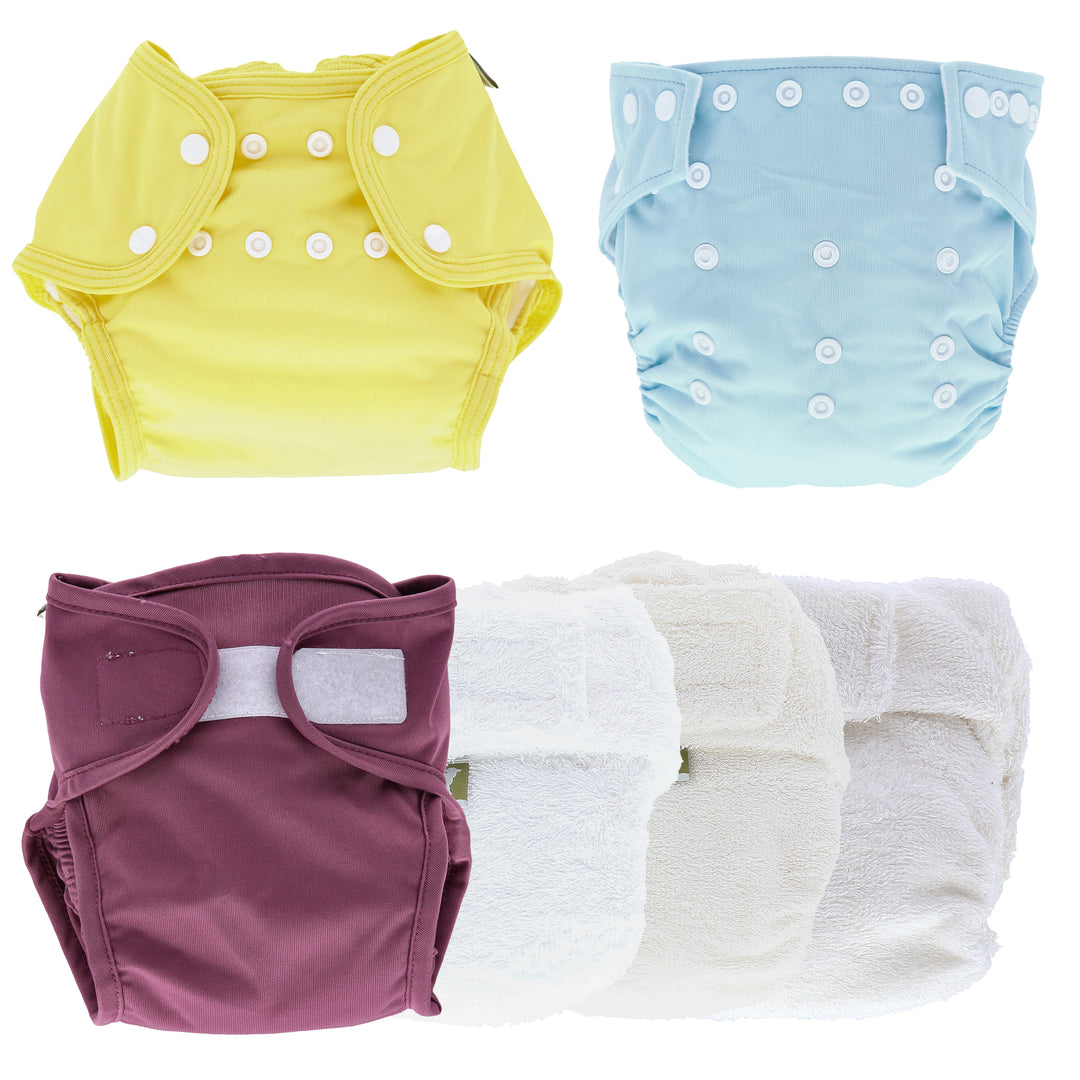 Try Them All Reusable Nappy Kit
Regular price
£83.89
Sale price
£49.00
Save £34.89
/
69 Reviews
Based on 69 reviews
Low stock - 1 item left

Inventory on the way
Not sure what style to choose? This try them all kit is exactly that - it has one of each of our nappy styles, so you can try them all and make the best decision. 
This kit includes the following;
- 1 x Onesize pocket nappy (comes with 2 x bamboo doublr's)
- 1 x Pocket nappy (comes with 1 x woven bamboo insert)
- 1 x Cotton Fitted Nappy
- 1 x Bamboo Fitted Nappy
- 1 x Bamboo No Velcro nappy 
- 1 x Nappy fastener (to be used with the no-velcro nappy)
- 1 x Wrap (to be used on the Fitted Nappies)

We'll also send you our in-depth How to Use Cloth Nappies booklet explaining everything you'll need to know to start using cloth nappies as soon as this kit arrives! 
Only available in sizes 1 and 2. 
Delivery
Free delivery to the UK and Ireland on orders over £50 and subsidised shipping around Europe and the rest of the world. Shipping will be shown at the checkout and is priced according to destination and weight.
Please note that for overseas orders, we do not cover or pay for any duties or taxes. These costs are the responsibility of the recipient and may need to be settled with your local customs or tax authorities.
* 6 Week Trail
We offer a 6-week trial on all our reusable nappies and accessories for LittleLamb.com customers. If you are not happy with your purchase, simply launder and return the products within 6 weeks of purchase for a full refund.


Terms and conditions;
Return shipping is your cost
All purchases must be from LittleLamb.com.
Our return policy is limited to one (1) return or exchange per household.
Please contact us directly within the first 6 weeks after delivery of your Littlelamb products to lodge a return request.
All items must be in a clean and useable condition and not have been boiled, bleached and abused. We will not accept LittleLamb products back in bad condition.
This trial is not eligible for sanitary products, clothing, clothing accessories and clearance items.
Returns
We offer returns for change of mind purchases within 4 months (121 days). Please notify care@littlelamb.com as soon as possible from receiving your goods if you want to return your order.
For a change of mind return, your item must be unused and in the same condition that you received it, including unwashed. We cannot accept returns for pre-washed items.

Warranty
All LittleLamb products are guaranteed against manufacturing defects for 6 months from purchase, as long as care guidelines have been followed.
Learn more.
Care for your nappies by following these easy steps.
Hold the nappy or washable liner over the toilet and ease off the solids. If using a disposable liner, bin it, don't flush it.
Close any velcro tabs.
Put them in a dry pail with lid. Wait until you have a full load.
Wash them with a gentle washing powder on a full cycle using the recommended amount of washing powder for load size and water hardness. Note - DO NOT ADD BLEACHING AGENTS OR FABRIC SOFTENERS.
Hang out to dry in direct sunshine or near (but not touching ) a direct heat, or tumble dry on a low heat. 
"How many reusable nappies do I need?" The answer varies depending on your individual situation. Factors such as your washing and drying facilities, your baby's age and change frequency, and whether you're using cloth nappies full or part time all play a role. However, as a general guideline, we recommend the following quantities for full-time use and washing every second day:
Newborns: 30 nappies and 10 wraps
8 weeks to 6 months: 15 pocket nappies, 5 fitted night nappies, and 2-5 wraps.
6 months and up: 12 pocket nappies, 3 fitted nappies, and 2-4 wraps
While having more nappies can make things easier, the above quantities are all that's necessary. We understand the temptation to get carried away with patterns, but anything beyond these numbers is just a nice bonus.
Emily C.
Reviewed by Emily C.
Verified Buyer
Great way to try the different types and fits
Helped me to realise that two part sized nappies were best for my baby. Without trying the nappies I would've ordered the wrong style to meet my needs, so I'm really glad I ordered this kit first! 😊
Mathilde V.
Reviewed by Mathilde V.
Verified Buyer
Great mix
We weren't sure what diapers we needed and this selection helped us a lot. It is a great start and you get to play around with boosters, nappies and covers. I would definitely recommend
Pippa R.
Reviewed by Pippa R.
Verified Buyer
Excellent to sample all the different types
I was really glad I purchased this pack so we could see all the different options and make an informed choice about what worked for us. The products are really good quality and we love using them.